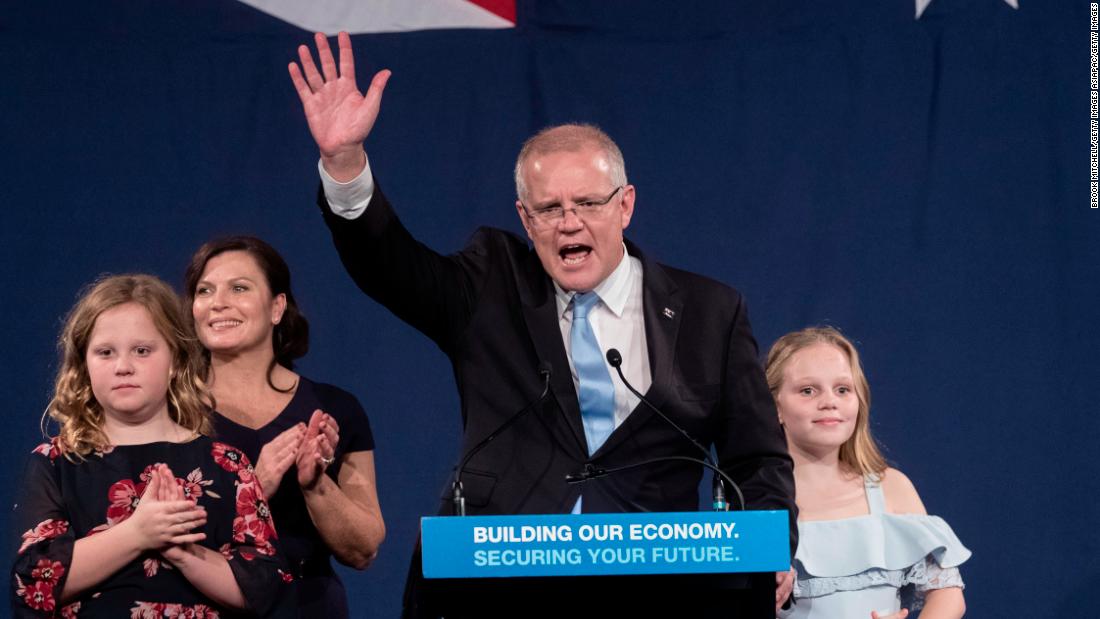 (CNN)Australian Prime Minister Scott Morrison and his conservative Liberal National coalition party defied more than three years of losing national polls to pull off what he described as a "miracle" during his victory speech over the weekend.
An exception was China.
Although there was no strong disagreement between the two major parties with respect to policies toward Australia's largest trading partner, there were differences in emphasis and tone. Beijing would have probably tried to revise Australian policy under a Labor government — not through coercion but in a softly-softly manner. With Morrison's victory, that door is closed.
Consider the rough waters in bilateral relations between the two countries since late 2017.
Australia's federal government refuses to formally sign on to the China's Belt and Road Initiative and has spoken out against the creation of "debt traps" and opaque lending practices by Chinese entities to weak or fragile regional economies.
The Coalition government has issued strongly worded criticisms of Chinese violations of international law in the South China Sea, which are ahead of statements made by even regional claimants to disputed territories and warned against assertive Chinese behavior in the East China Sea.
Those declarations were made in defense of international law and norms and to condition Beijing to accept Australian positions on these issues.
When there are changes of governments in democratic countries which have endured frictions with the Communist Party, Beijing tends to offer "diplomatic resets" in exchange for a softening of policies.
The comments were made on the sidelines of the official Labor Party campaign launch last week. Keating, until recently the chairman of the international advisory board of the China Development Bank, called these spy chiefs "nutters" for advocating tougher policies such as the introduction of anti-foreign interference legislation and the banning of Huawei from the national 5G network.
It must be said that Labor leader Bill Shorten distanced himself and any government he might lead from that view. Nevertheless, there were differences between the two major parties with respect to policy towards China.
While the conservative Coalition publicly backed the Trump administration's 2018 National Defense Strategy which calls out China as a threat, the Shorten team declared it would not frame China as a "strategic threat" and that the government's hard line against its largest trading partner was been clumsy and showed a lack of respect.
In the execution of foreign policy, temperament and tolerance for disagreement matters almost as much as official policy itself.
Had Shorten won office, he would likely have met China's Xi Jinping during August's G20 Summit in Japan.
A likely Chinese offer of a "truce" would probably entail a softening of Australia's attitude towards Chinese maritime, economic and political activities. This does not guarantee that a revision of harder line policies will duly follow, but it is the first step in that direction.
As it now stands, Morrison will have a full three-year term to shape Australian foreign policy. While he rejects the notion of Australia making a binary choice between one or the other, he has characterized the US as Australia's ally and friend and China an indispensable customer.
That is wisely lowering expectations that Australia is for the turning and the ball is in China's court.
Read more: https://www.cnn.com/2019/05/20/opinions/china-not-celebrating-australian-election-intl/index.html