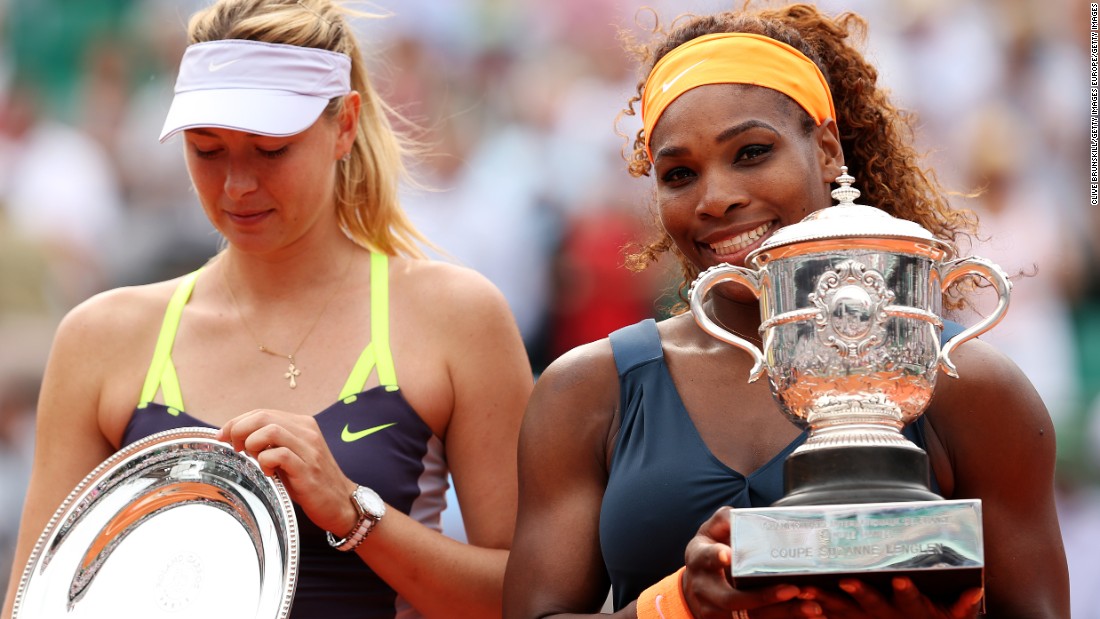 (CNN)In the space of one hour and eighteen minutes, Maria Sharapova's life would change for ever.
The precocious Russian teenager with the infectious, gleeful smile had beaten the world No. 1 and reigning champion Serena Williams.
With that victory in the final, Sharapova became the third-youngest woman in history to be crowned champion at the All England Club.
"I remember a moment with my coach after winning a quarterfinal at that Wimbledon," Sharapova tells CNN's Don Riddell as she reflects on her victorious run to a first grand slam title.
"I was having my food after the match and a lot of people were coming up to me and saying 'congratulations' and wanting to take a picture — people I've never met in my life.
"I just noticed this wave (of people) and so did my coach," added Sharapova, referring to Mauricio Hadad. "He immediately came up to me and he was almost whispering in my ear.
"Okay, things are changing," she vividly remembers him telling her. "They've changed right now from this moment. You're a semifinalist at Wimbledon. You're 17 years old. You have to put those horse blinders on."
Sharapova describes that victory as a pivotal moment in her career.
The endorsements and sponsorship deals began to rain in, kickstarting 'Brand Sharapova.'
That Sharapova had so much to gain from a single victory only served to emphasize the opposite for her beaten opponent.
"Look, I think Serena, in that particular match, had everything to lose compared to myself," she says. "I mean, I was the underdog. If I lost that match, I would be the happiest kid on the planet.
"Wimbledon finalist? Who would have thought? No one expected that from me. She's a two-time defending champion, there's a lot more on the line and I think I sensed that.
"That didn't scare me, it only wanted me to win more."
As grand slam tournaments wear on and the number of players dwindle, the locker room becomes a quiet, empty place.
"You feel like you're the only two people on the planet," Sharapova says, reliving that private moment. "You share a lot of moments with them.
"It's like you're so connected but yet you're so far apart because they're your competitors."
In her book, Sharapova lucidly describes the way she heard Williams sobbing in the locker room after the final.
Intruding in that most personal and painful of moments is something Sharapova believes Williams has never forgiven her for.
"Obviously it was a disappointing loss to her because she was expected to win," she says. "I'm sure she expected to win that match, another Wimbledon final.
"So I think that disappointment really, it stirred something up. She didn't want to lose to me again."
Though that day belonged to Sharapova, their head-to-head since makes for grim reading for the Russian. Not since 2004 — a run stretching 13 years and 18 matches — has she tasted victory against Williams.
"Well, I say she's owned me," the 30-year-old admits bluntly. "Which she has."
Hiding in the shed
Just a few years earlier, Sharapova recalls seeing Serena — and her sister Venus — for the first time while she was attending the Nick Bollettieri Tennis Academy in Florida.
The coaches suspended lessons so the students could watch the Williams sisters practice for the few days that they were there.
Sharapova's father insisted she go too, to "watch these incredible athletes," she recalls him telling her.
"I want you to watch, and I want you to just look in their eyes to see the desire and the passion, to see how they play the game," was Yuri Sharapova's advice.
Not wanting to give the sisters the "satisfaction" of seeing her in the stands, Sharapova found an unconventional hiding place from which she could observe.
"Okay, there's a wooden shed behind the court," she explains. "It was like a video shed, where they do video analysis.
"And so I went in that shed and I was like peeking through this little hole and just witnessing years of my life before me.
"They were already grand slam champions at the time and just a few years later it was really as if someone took me and put me in a television screen and put me up against Serena Williams."
Arriving in America
Eleven years before Sharapova was crowned Wimbledon champion, she landed at Florida airport with her father — the pair had only $700 to their name.
Her mother, Yelena, had planned to join them but wasn't permitted due to visa restrictions. It would be two years before they would see each other again.
Yuri had planned for someone to pick them up from the airport, but that person never arrived.
Barely able to speak a word of English between them, they were stranded in a new country in the middle of the night with nowhere to go.
Sharapova is all too aware that had it not been for fate, good fortune or the kindness of strangers, her story could have been completely different.
"It's 2:00 am and nobody is there and where do you go?" she says. "What do you do? Who do you call? And then, there happens to be a couple that you meet on the plane that takes you to their hotel room," she recalls.
"You end up staying on the floor and just those experiences, like, who were the saviors? Who? When we're young, we always say 'stay away from strangers,' but those were the strangers that really helped us get to where we are today."
Throughout her career Sharapova has painted herself as the underdog, as if it were her against the world.
She believes this backs-against-the-wall approach stems from her time bouncing around tennis academy dormitories, always being an outsider, never quite fitting in.
"I was with kids that were much older than I was, that had very different interests, that stayed up late, that didn't take their sport as seriously as I had," she recalls.
"So I think we're maybe on different goal career paths and I realized that from a young age. And I think part of that isolated me.
"It became a habit and it became so repetitive that I didn't even notice it, but it was absolutely lonely in those times."
Drug ban
On March 7, 2016, Sharapova called an impromptu press conference to announce she had failed a drugs test.
The prohibited substance meldonium — an over-the-counter heart medication commonly used in the countries formerly comprising the Soviet Union — had been found in a regulation test she had taken following her Australian Open quarterfinal defeat to Serena Williams.
Though at the time Sharapova accepted "full responsibility" for taking the drug, to this day she vehemently denies knowingly taking a banned substance that would aid athletic performance.
Initially prescribed meldonium in 2006 "both as a cardio-protective agent and as a preventative agent for diabetes," Sharapova claimed she wasn't aware the World Anti-Doping Agency (WADA) had added the drug to the prohibited substance list on January 1, 2016 — 18 days before the start of the Australian Open.
"It was shocking," she said, describing her emotion upon hearing of the failed test.
"It was surprising. It was a lot of emotions. So much uncertainty, I think. That was the toughest emotion that I had to deal with."
But questions about the legitimacy of Sharapova's defense still remain.
How had nobody in her team of agents, doctors, dieticians, lawyers and advisers not notice the addition of meldonium to the prohibited substances list?
As the final sentence of the independent tribunal investigating the case said: "She is the sole author of her own misfortune."
Many leading figures on the tour, most notably Eugenie Bouchard and Caroline Wozniaki, have been vocal in their disapproval of Sharapova's return to the circuit and the wildcards she has received.
Sharapova, however, remains unfazed by the criticism.
"I think if the reaction was coming from fact, I think I would take them into account," she explains.
"But when the reactions come from just the personal opinion, or things that are not based on facts, there's no time for me to think about that."
Retirement
Sharapova is adamant she never believed the drug ban would end her career, although she admits not knowing how long the ban would be was "scary."
Despite the ban shaving 15 months off her career, the five-time grand slam champion believes it gave her a new lease of life.
Prior to her positive test, she admits to seriously entertaining the idea that 2016 would be her last year on the professional circuit.
After suffering multiple shoulder injuries in her early twenties and undergoing surgery, Sharapova was unsure whether her body could continue to cope with the rigors of the tour, much less whether she had the desire to continue playing.
"To keep doing that grind, six days a week, for hours on end," she says. "Competing at 18, 19 tournaments a year and doing it over and over.
"You know, it's a combination of things that get you to a high, whether it's a ranking or a high position and all those things have to come together.
"I always knew that I had a passion for the sport, but I just felt like I would just one day want to sit on the couch. And I don't know, sitting on the couch gets pretty boring."
Sharapova says she would like to end her career on her "own terms" but, as of yet, doesn't know herself what this means.
"I don't know if it's a grand slam, I don't know if it's another victory, I don't know if it's a personal victory. I don't know," she says.
"I think we know so many things. We know scheduling, we know events, but all I know is things that I've achieved. I know all those things. I know what I'm capable of. I know how much desire I have.
"And I still feel like I have a lot to bring."
Read more: http://www.cnn.com/2017/09/18/tennis/maria-sharapova-drug-ban-us-open-wimbledon-serena-williams/index.html