Wage stagnation and an ever increasing cost of living have left many people feeling poorer over the last few years.
But for some workers skills shortages mean pay has shot up. So is your job on the rise or is it time to explore the market? Try out our calculator, then scroll down to find out the jobs market's winners and losers…
Please enable JavaScript to view the salary calculator.
Hourly pay excluding overtime (£)
Explore the full list of jobs
Job title
Change (2011-16)
Salary
| Job title | Change (2011-16) | Salary |
| --- | --- | --- |
Calculator produced by Daniel Dunford, Alison Benjamin, Ransome Mpini, Evisa Terziu, Luke Keast and Mark Bryson. Users of the Twitter mobile app or Google AMP may need to access the BBC News App or website directly to use it.
Feature continues below…
In many parts of the UK, people don't feel richer than they did five years ago.
By May 2017, average weekly pay in the UK was 0.5% lower than the same time a year earlier after inflation was taken into account.
But there have also been significant winners. Privatisation, unionisation, skills shortages and supply and demand can all play their part in determining how pay fluctuates.
Here are the jobs with the biggest average pay rises and falls over the past five years, based on official analysis of the pay data collected by HMRC.
The winners
Pilots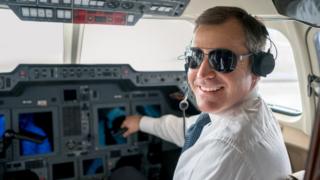 Pilots enjoyed an average pay rise of 26% between 2011 and 2016 – taking their average annual salary up to a cool £86,855.
One young British Airways pilot says that while he didn't become a pilot for the money, there are certainly perks of the job. He requested that his name not be included.
"The pay was not a particular draw. Ever since I was a kid I never wanted to do anything else. It's not as good as it was – in the 80s and 90s the pay was crazy – they were on the starting salary that we are on now. But it's still a good lifestyle because they pay you pretty well for how much time we spend at work.
"I would encourage anybody to do it. It's a brilliant career – not as glamorous as it once was but it's still pretty good."
After the financial crisis, with some airlines close to going bust, pilots were allowed to work more hours. Typically, they are paid at a higher rate when working over their basic hours.
At the same time, demand is growing. A record number of passengers passed through UK airports in 2015, and about 600,000 new commercial airline pilots will be needed globally over the next two decades.
Energy workers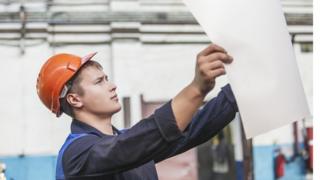 Energy workers have seen their average pay shoot up by 29% in five years, as a skills shortage has started to bite.
About 80% of power engineers are due to retire within the next 15 years and the energy and utilities sector predicts 221,000 vacancies arising in the next decade alone.
Nick Turton from the Energy Institute says the increase in pay is to bring in fresh blood to the sector. He suggests Brexit 'is likely to become a further aggravating factor', pushing up wages further.
"We know from our most recent engagement that a majority in the sector see the availability of skilled, qualified labour as an acute concern, in the event of any restriction on freedom of movement. Many also believe this is likely to drive wage levels higher still, unless the government and industry can act to stem the contraction of an already shallow talent pool."
Pub managers/landlords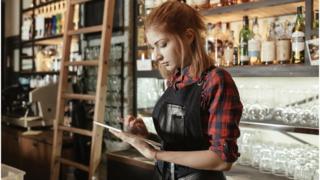 It may not fit with Al Murray's grumpy persona, but recent years have been kind to pub landlords and managers in terms of pay.
Domonic Naylor managed a gastropub for several years and now recruits for a premium hospitality business.
He says there has been a "huge increase" in the average wage for most hospitality roles.
"As more independent pubs go under and are purchased by the industry giants they recognise that a competent manager is key to their continued success.
"Despite the fact that they are part of a larger corporation, the pub manager will drive the reputation that sees sales rise or fall. In order to attract and retain the best they are often essentially blackmailed into paying higher and higher wages."
Pay rose by an average of 29% between 2015 and October 2016, something Mr Naylor attributes to the lead up and immediate aftermath of the Brexit vote.
"The effect of Brexit is being felt across the industry already. A number of EU nationals felt, and still feel, that their futures were insecure so made the decision to head back to their home countries."
---
Biggest winners 2011-2016
Air traffic controllers +54%
Taxi and cab drivers and chauffeurs +44%
Rubber process operatives +39%
Electronics engineers +35%
Publicans and managers of licensed premises +31%
Tailors and dressmakers +31%
Energy plant operatives +29%
Aircraft pilots and flight engineers +26%
Childminders and related occupations +24%
Crane drivers +22%
(figures are for full time workers only and don't account for inflation or include the self-employed)
---
But the flipside is that in some jobs pay has been falling.
The losers
Probation Officers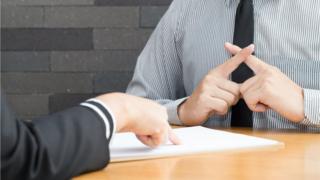 Probation officers have seen their pay fall a whopping 20% in five years. Napo, the probation service union, says its members have been hit particularly hard by the 2010 public sector pay cap.
Katie Lomas, Napo's vice chair says changes to pay increments means it now takes 23 years for a new officer to reach the next pay bracket. The pay increments officers received three times a year were reduced to one – but remained at just under 1%.
"Because of the pay freeze most probation officers have given up hope of ever seeing the top of the pay scale.
"We are seeing people leave the sector because it does not pay like it used to. It was seen as a professional job and a probation officer could have a mortgage and provide for a family on a single income but that is not the case anymore and we see colleagues struggling with day to day living costs."
Advertising executives and creative directors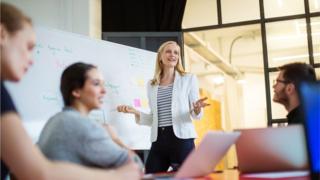 Television shows like Mad Men play tribute to the once-glamorous world of the advertising agency. But wages for accounts managers and chief executives within the sector have fallen by 14%.
One factor could be the trend for firms to create advertising campaigns internally, rather than pay an agency.
In the US, the Association of National Advertisers found in-house agencies increased by 16% between 2008 and 2013, with cost-cutting the main reason.
Laura Jordan Bambach, chief creative officer and partner at independent agency Mr. President, says big agencies haven't been nimble enough to keep up with the evolution of the sector.
"Everyone is in every sector is feeling the pinch and clients are looking to do different types of work.
"You used to use one ad agency to do everything for you but the nature of advertising has changed and the bigger agencies who can't change as fast as the industry end up with quite inflexible structures and quite a lot of overheads."
Radiographers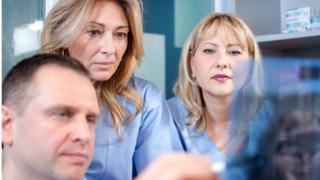 Richard Evans, chief executive of the Society of Radiographers, says the sector's 8% pay decline has to be seen in the context of stagnating NHS pay.
"We are seeing a gradual fall off in more senior people as they retire, and a slowing of promotion for others. The effect of economies having to be made in the NHS means people are not bring promoted as fast as they should be so when people leave from higher grades they are not being replaced as quickly.
"This is quite serious because you want to create circumstances in which people have ambition and want to deepen their practice."
This increased pressure also has knock-on effects for related professions.
"There is a national shortage of radiologists and one of the ways the service is compensating is that radiographers are taking some of the load off them, but that won't happen if we don't have the people to do it."
---
Biggest losers
Complementary medicine practitioners (health associate professionals, other) -22%
Probation officers -20%
Coal miners -15%
Advertising accounts managers -14%
Precision instrument makers -14%
School inspectors – 11%
Shelf fillers -10%
Museum archivists and curators -9%
Hotel/caravan managers and owners -8%
Radiographers – 8%
(figures are for full time workers only and don't account for inflation or include the self-employed)
---
Methodology
All data used on this page is compiled and made available by the ONS's Annual Survey of Hours and Earnings (ASHE) – the most recent release was October 2016. The survey doesn't include self-employed workers or bonuses. We have chosen to use data for full-time workers only.
The BBC has examined figures from 2011 to 2016 inclusive. We excluded jobs entirely if there was no figure for 2016. Sections may be hidden for certain jobs due to missing data.
The only sheets we used are those referring to 'Gross annual pay' and 'Hourly pay – excluding overtime'. We used hourly pay to work out the gender pay gap and annual pay for all other figures. We selected the median figure rather than the mean, as per ONS advice.
We used the CPI measure of inflation to make 'real-terms' adjustments.
Read more: http://www.bbc.co.uk/news/business-40756834