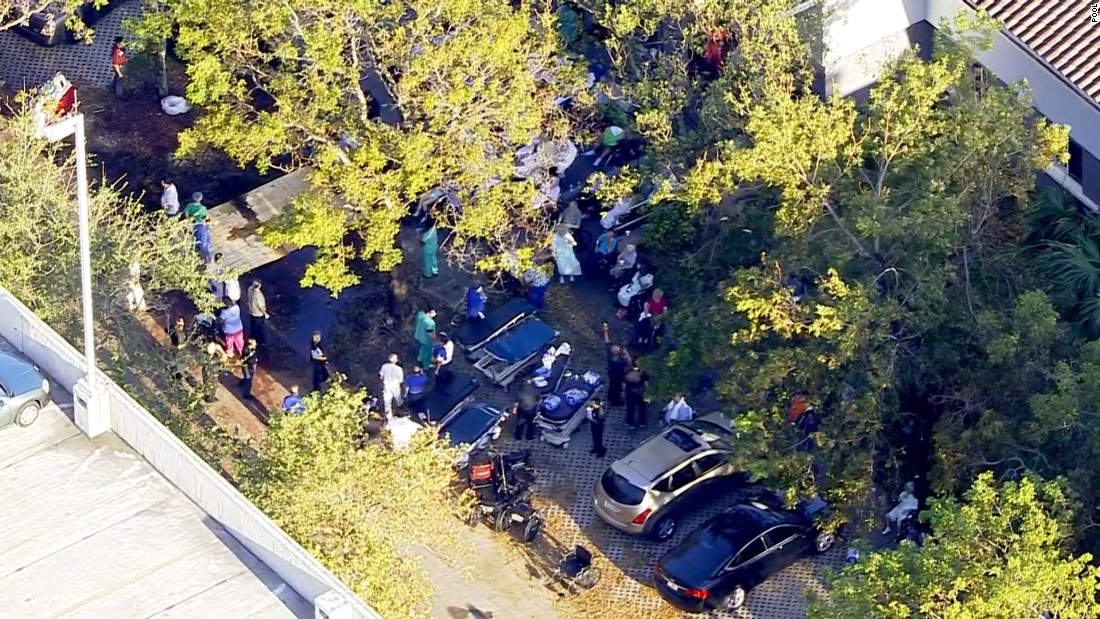 (CNN)Police are investigating the deaths of eight nursing home residents in Hollywood, Florida, where oppressive heat and humidity set in after Hurricane Irma knocked out much of the power in the area.
The Rehabilitation Center at Hollywood Hills said the residents, ages 71 to 99, died "following a prolonged outage of our air conditioning system due to Hurricane Irma."
The center did not lose power during the storm, but it lost a transformer that powers the air conditioning, nursing home administrator Jorge Carballo said in a statement later Wednesday.
The center said it immediately contacted Florida Power & Light and continued to follow up with them for status updates on when repairs would be made. Outreach was made to local emergency officials and first responders, Carballo said, without specifying when.
"Staff set up mobile cooling units and fans to cool the facility and continually checked on our residents' well-being to ensure they were hydrated," Carballo said.
CNN reached out to Florida Power & Light for reaction to that statement.
Questions abound
The statements were the latest on a day of finger pointing among state officials, Florida Power & Light and the nursing home, leading to more questions than answers about how the sweltering conditions persisted for so long.
One resident died late Tuesday at Rehabilitation Center at Hollywood Hills and was taken directly to a funeral home. Three more were found dead on the second floor of the facility after rescue units were called in. Four more died in hospitals after the sweltering facility was evacuated Wednesday morning in a chaotic blur of events that prompted checks of other nursing homes in the area.
By Wednesday evening, the state had issued an emergency moratorium on the facility admitting new patients, and Hollywood Police were investigating whether any laws had been broken.
In his latest statement, Carballo attempted to clarify some of the outstanding questions.
"The Center and its medical and administrative staff diligently prepared for the impact of Hurricane Irma. We took part in emergency management preparedness calls with local and state emergency officials, other nursing homes and health regulators," the statement said.
"In compliance with state regulations, the Center did have a generator on standby in the event it would be needed to power life safety systems. The Center also had seven days of food, water, ice and other supplies, including gas for the generator."
Carballo also said: "We are devastated by these losses. We are fully cooperating with all authorities and regulators to assess what went wrong and to ensure our other residents are cared for."
In a statement, Richard Beltran, a spokesman for Florida Power & Light, said: "What we know now is that a portion of the facility did, in fact, have power, that there was a hospital across the parking lot from this facility and that the nursing home was required to have a permanently installed operational generator."
The utility said it urges facilities with patients dependent on electricity-powered equipment, and who don't have power, to call 911 if there is a life-threatening situation.
Temperatures reached the 90s Tuesday in Hollywood; by Wednesday the heat index was near 100 degrees and low temperatures were in the upper 70s.
Calls come in
The first fire rescue crews responded to a call from the facility around 3 a.m. Wednesday, for a patient in cardiac arrest. The patient was brought to the hospital and firefighters were called back to the facility at 4 a.m. to transport another patient experiencing breathing problems. Soon after, a third call came in for another patient transport, and the fire department sent over more crews, the City of Hollywood said in a statement.
Police Chief Tomas Sanchez described the second floor "as excessively hot." Hollywood Fire Chief Christopher Pratt said it was "more than likely" that heat played a factor in the residents' conditions.
In all, firefighters evacuated 158 people from the nursing home, including a number of critical patients.
"Most of the patients have been treated for respiratory distress, dehydration and heat-related issues," Dr. Randy Katz, the medical director of Memorial Regional's emergency department, said in a morning news conference.
Another 18 patients in an adjacent behavioral health facility also were evacuated, Storey said. As a precautionary measure, police checked 42 more nursing homes and assisted living facilities in the city of Hollywood, Sanchez said. One of them was later evacuated because of the heat.
Governor wants answers
Gov. Rick Scott said Florida's Agency for Health Care Administration and the Department of Children and Families also launched investigations.
"I am going to aggressively demand answers on how this tragic event took place," he said
in a statement
. "If they find that this facility was not meeting the state's high standards of care, they will be held accountable to the fullest extent of the law."
Earlier Wednesday, the City of Hollywood said an an initial investigation determined that the facility's air conditioning system was "not fully functional." Portable A/C units were being used in the facility, "but the facility was excessively hot," the city said in a statement.
The nursing home has had a list of safety violations and citations, including two for not following generator regulations in
2014
and
2016
. In
both
instances
, the nursing home corrected these deficiencies.
"We're certainly all very disappointed that something like this could've taken place," Mayor Josh Levy told CNN. "Unfortunately, emergency services were called obviously too late."
Patients evacuated to hospitals
The hospital has set up a hotline, 954-265-1074, so that families of nursing home residents can check on their loved ones.
Florida Health Care Association
, which represents 81% of Florida's nursing centers — but not the Rehabilitation Center at Hollywood Hills — said about 150 facilities out of nearly 700 nursing facilities in the state do not currently have full power services restored, the statement said.
The association added that it is working with state officials to identify homes without power so that utility companies could prioritize those in greatest need.
Police also started evacuating 79 residents of
another nursing home
in North Miami Beach on Wednesday, citing similar safety concerns about lack of air conditioning. Police used city trolleys as one way to transport residents of the Krystal Bay Nursing and Rehabilitation Center to another facility, according to public information officer Brian Andrews.
Florida Sen. Bill Nelson said he spoke to Secretary of Veterans Affairs David Shulkin to ask him if Veterans Affairs medical facilities could be used to house elderly people, if necessary, and was told yes.
Read more: http://www.cnn.com/2017/09/13/health/florida-nursing-home-deaths/index.html